WEB PLATFORMS
Account for your people
| | |
| --- | --- |
| | Personnel Monitor |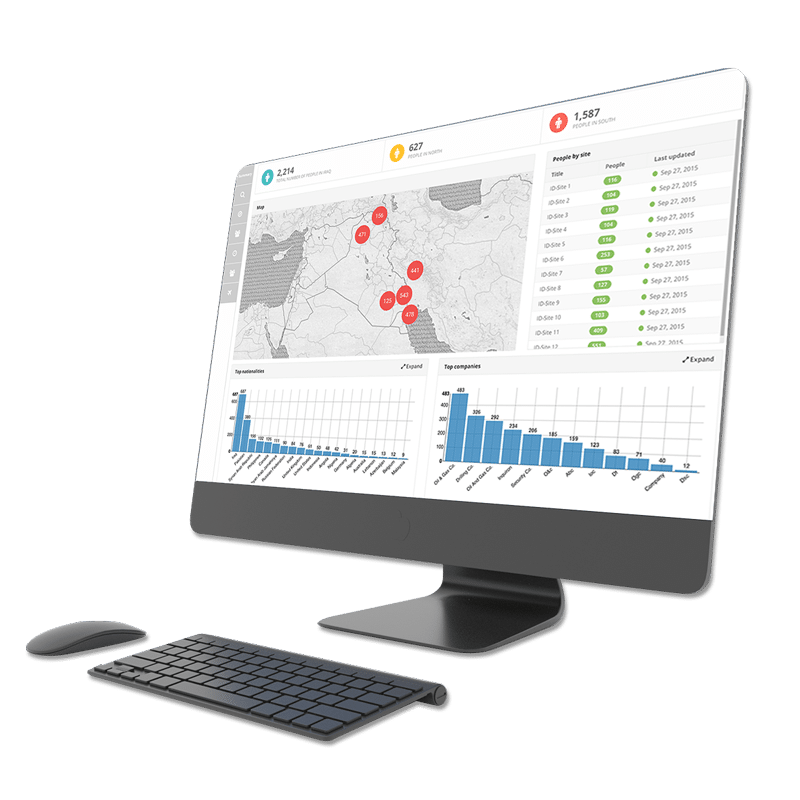 In the event of civil unrest, a major health and safety incident or a terrorist attack, it is essential to know where all your people are in order to keep them safe.
| | |
| --- | --- |
| | Benefits: Upload, manage and search your data within a single intuitive platform to ensure the safety of people under your care. |
Visualise
Display information on maps and in charts to easily see how many staff, employees or subcontractors are located within a country, region or work site, showing you who they are and critically, where they are at any one time. Our singular, value-add platform enhances your ability to locate your people on the ground, enabling you to respond swiftly and accurately in a crisis.
Aggregate
Aggregate reliable and up-to-date data in our centralised and customizable system. Search, download and share important personnel data in real time, on demand, 24/7.
Share
Share critical information with remote teams via a single platform. Ensure data is not isolated or lost in emails or on laptops at work sites. Improve accountability and allow for timely reporting and response in the event of a health and safety incident or crisis.
Our singular, value-add platform improves your ability to locate your people and promptly respond to a crisis.
| | |
| --- | --- |
| | Features: Streamline the data collection process to protect your people. |
Access
Access all the information you need on one platform, accessible 24/7.
Map view
Easily view the location of your people around the world on a single map. See which country and region they're in and know precisely which site they're currently working at.
Summary
View a summary of key information on one intuitive platform. For example, employees grouped by nationality, sub-contractor or location.
Report
Schedule daily, weekly or monthly summary reports direct to your inbox, bringing the information you need to your fingertips.
Search
Easily search, download and share information in pdf or excel formats.
Integrate
Integrate third-party data sources into your existing methods of gathering information, building out a fully comprehensive view of the people under your care.