MOBILE APPLICATIONS
Keep your people safe
| | |
| --- | --- |
| | GSI |
Global Security Insights: New Module for Track24 Customers.
| | |
| --- | --- |
| | GSI |
An extreme weather event, a terror threat or sudden violence. For your teams in the field, knowledge of such threats when they happen can radically change their circumstances.
Keeping your teams updated on security threats is now in their hands, with the new Global Security Insights module on the Smart24 app.
Track24 has partnered with a leading intelligence and risk consultancy firm with risk specialists across the globe. Their global teams publish verified data on events as they happen, meaning the GSI threat data is possibly the most accurate and immediate on the market.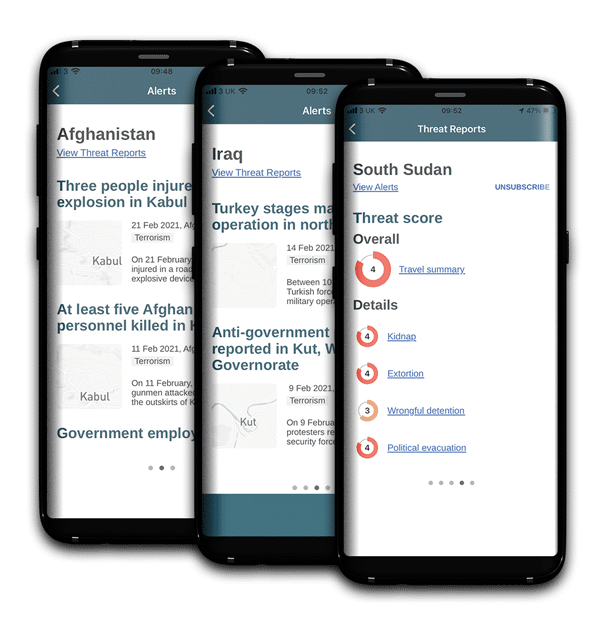 What is the Track24 Global Security Insights Module?
The Global Security Insights (GSI) module, delivers tailored, real-time, security and threat information to users of our Smart24 mobile app.
Where an immediate threat occurs within a Smart24 user's country, the GSI module sends a push notification to the user's device.
Within the app, users are able to monitor threat reports through the intel feed, subscribe and unsubscribe to alerts on other countries and enable notifications.
Country Risk Rating Categories:
Country category risk ratings within the GSI module allows you and your teams to review the threat potential of over 150 countries. Detailed information on 9 different threat categories, tolerance, behaviour and local custom can better prepare teams for safer travel planning.
Adding the GSI module to your current Smart24 package is a low cost means of ensuring your teams can make swift, autonomous decisions affecting their safety. Our Customer Service team can enable the GSI pack to your plan with immediate effect, you can call them on 0207 859 4655 or email info@track24.com.
We take data security seriously within our applications, hardware and processes.
We are ISO 27001 certified.